Agenda
Zaterdag 18 nov 2017, 09:45 - 18:00

Utrecht: The October Revolution 1917/2017 - Day School
Contact
Dit e-mailadres wordt beveiligd tegen spambots. JavaScript dient ingeschakeld te zijn om het te bekijken.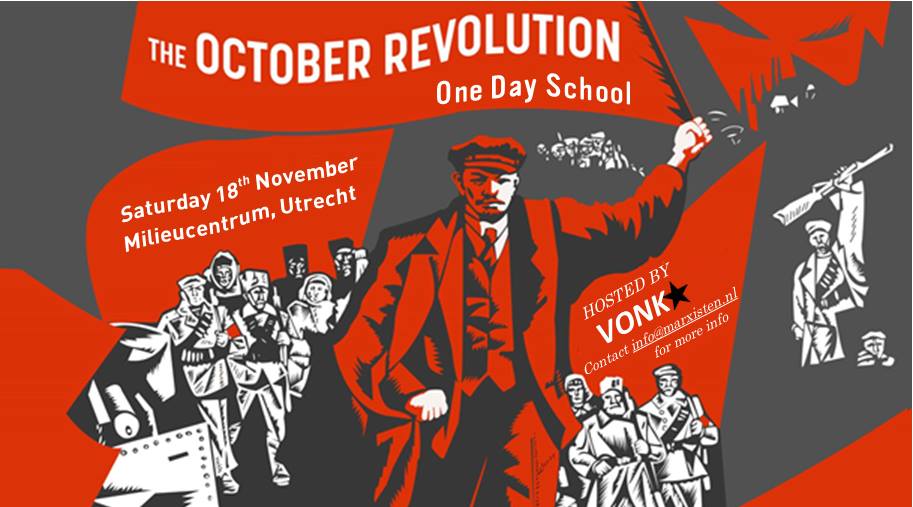 VONK, Marxistische Studenten Utrecht and the International Marxist Tendency are very excited to invite you to OCTOBER REVOLUTION 1917/2017 - a one day school of Marxist ideas.
100 years ago, the masses in Russia - led by Lenin and the Bolsheviks - changed the course of history with the inspiring October Revolution. For the first time in history, the working class took power into its own hands and attempted to transform society in the interests of the vast majority.
Today, with the world in the midst of crises at all levels - economically, politically, and socially - there is once again a thirst for revolutionary ideas to make sense of the turbulent processes taking place and explain the way forward for society.
From the chaos of the Trump administration and the growing global military tensions between America, China, and Russia; to the radical political movements seen around Melenchon in France, Sanders in the USA, and Corbyn in Britain: it is clear that the status quo has failed and the system has broken. Now more than ever, therefore, there is a need for revolutionary change and a socialist alternative.
Join VONK, Marxistische Studenten Utrecht and the International Marxist Tendency this November for our very first day school ever: OCTOBER REVOLUTION 1917/2017 - a day of celebrating the events of the 1917 Russian Revolution; learning the vital lessons from such revolutionary historical events; and discussing the relevance of Marxist ideas in understanding how we can fight for radical change today.
E-mail
Dit e-mailadres wordt beveiligd tegen spambots. JavaScript dient ingeschakeld te zijn om het te bekijken.
to book your place now.
Tickets: €5 students and unwaged / €10 waged / €15 solidarity
******************************************************************************
FULL DAY PROGRAMME – SATURDAY NOVEMBER 18TH
All talks are in Milieucentrum, Utrecht on the street Oudegracht 60. Nearest bus stop is 'Neude'.
9:45 – 10:15 Registration and Introduction to the day school
10:15 – 11:45: Who were the Bolsheviks? - Kyle Michiels (Member of Vonk, Belgium)
BREAK 11:45 – 12:00
12:00 – 13:30: The lessons of October – Zowi Milanovi (Member of Vonk editorial board)
LUNCH 13:30 – 14:45
14:45 – 16:15: Women and the October Revolution – Lubna Badi (Member of Marxistische Studenten Utrecht, Vonk)
BREAK 16:15-16:25
16:25-17:25: Screening of the new IMT documentary about the life and ideas of Trotsky.
17:25-17:45: Why we need a Revolution – closing remarks
Buy your ticket today!
Locatie:
Milieucentrum, Oudegracht 60, 3511 AS Utrecht